From the 26th-27th of October , Nanjing Medical University held its 50th Annual Sports Meeting in Jiangning Campus, where 48 teams participated, including undergraduates, affiliated schools and alumni. This year saw the highest number of participants in the event. Students of SIE competed tooth and nail for the first place, surpassing limits and exerting body and soul into the spirit of sportsmanship. Pocketing medals in numerous events, the SIE boys' team ranked second overall, the girls' team ranked fourth, while the collective SIE team ranked an outstanding second!
During the opening ceremony, freshmen from over 47 countries, lead by SIE leaders and teachers, energetically marched while shouting the slogan, "多彩世界,活力南医", leaving a deep impression on the students and teachers present.
In the main event, our school participated in shot-putt, men's long jump, men's 200 meters run, men's 4*400m relay, men's 4*100m relay, women's long jump, mixed relay, basketball layups, etc and received multiple golds, silvers and bronzes. In shot-putt, once again- almost like a tradition- the top three places were taken by students of SIE - Keeth, Mehavanan and Samuel Paul. Shashank Srivastava of Batch-2018 got placed first in long jump, creating a record for SIE, as this was the first time a student from SIE won gold in this event. Zainal Abideen, of Batch-2016, once again bagged a gold medal in the men's 200m race, almost beating the university record by a deficit of 0.5 seconds.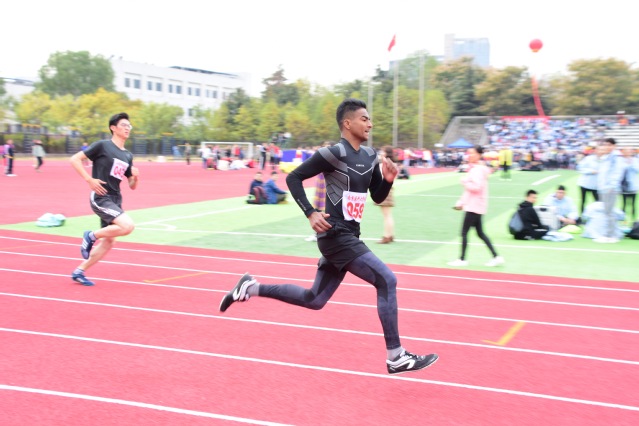 The volunteers and photographers were on the field around the clock, on their toes to make this event a success. The volunteers enthusiastically helped all the participants, demonstrating the spirit of selfless dedication, while the photographers made sure to capture the hard work and commitment of all the athletes. On these two eventful days, students tirelessly helped each other with a mutual understanding, forged new and unbreakable friendships, and most importantly, brought glory to the name of SIE.
(Author/Monica;Proofreader/Julia, Austin;Photo/Prashan, saad, Venkata, Dilitha)